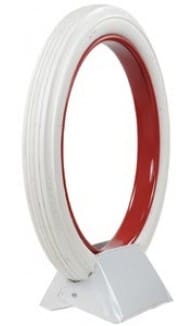 Click To Enlarge
We have a very limited supply, PLEASE call for availability.

Our straight ribbed style tires have been known for their smooth quiet ride and
positive steering characteristics. Original design from 1909 through the teens.
For the appropriate tubes, see the Quick Links below.
SKU 79696L
ConstructionTube: Type 4 Ply Nylon
Load Capacity: 1000 @ 60 psi
Overall Diameter: 32.00"
Tread Width: 3.00"