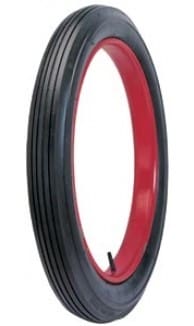 Click To Enlarge
Please go to "Tubes" to order the appropriate tube for this tire.
Our straight ribbed style tires have been known for their smooth quiet ride and positive steering characteristics. Original design from 1909 through the teens. Micro-siped!
Details/Options
SKU81708L
ConstructionTube Type 4 Ply Nylon 6 Ply Rated
Load Capacity1250 @ 60 psi
Overall Diameter33.25"
Tread Width3.38"