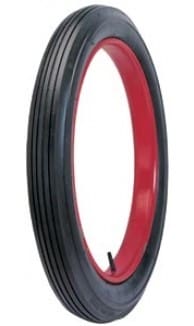 Click To Enlarge
Our straight ribbed style tires have been known for their smooth quiet ride and positive steering characteristics.
Original design from 1909 through the teens.
Micro-siped!
For the appropriate tubes, see the Quick Links below.
SKU 82868L
Construction: Tube Type 4 Ply Nylon 6 Ply Rated
Load Capacity: 1250 @ 60 psi
Overall Diameter: 35.50"
Tread Width: 3.50"