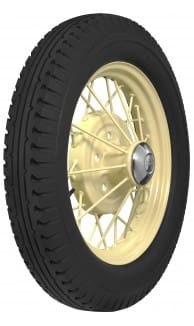 Click To Enlarge
440/450-21 Firestone Blackwall, original equipment on Ford Model A and T.
Authentic, original equipment for Ford, Chevrolet, many other American cars.
For the appropriate tubes, see the Quick Links below.

Made in USA
SKU 775970L
Construction: Tube Type 4 Ply Polyester
Load Capacity: 849 @ 32 psi
Overall Diameter: 30.79"
Tread Width: 3.75"