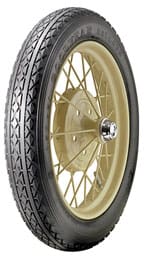 Click To Enlarge
Absolutely America's most popular tire of the early thirties. Ford Model "A", Chevy, Plymouth and on and on. Designed exactly as it was for maximum judging points and user satisfaction. Nothing like a diamond tread tire.
For the appropriate tube for this tire, see the quick link below.
Picture for tread pattern only.