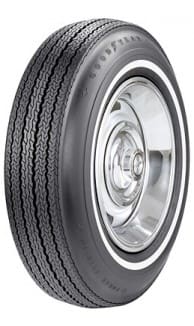 Click To Enlarge
The 31/32" w/w is to be used exclusively on the 1965 cars.
The 5/8" w/w is to be used for both 1966 and 1967 cars.
The G/S or gold stripe is to be used for 1965 and 1966 cars.
The R/S or red stripe is to be used specifically for the 1967 cars.
The BLK is applicable to all '65 thru '67 cars.
All non-Corvette O.E. 775/15 applications were fitted with the Goodyear Power Cushion broad market tire. Although identical in design optics, this tire carried inflated dimensions resulting in a taller O.D. and narrower inflated section width and tread radius.
| | |
| --- | --- |
| Construction | Tubeless 2 Ply Nylon |
| Load Capacity | 1490lb@32psi |
| Overall Diameter | 26.27" |
| Tread Width | 5.27" |
| Suggested Rim Width | 5.5-6.0" |