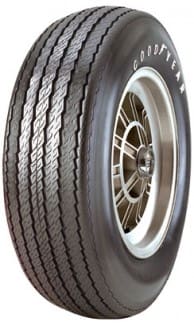 Click To Enlarge
Designed exclusively for the 1967 Ford Shelby Mustang.
Tire displays the "Goodyear" name in small raised white letters.
The Goodyear Speedway 350 "small letter" tire is for '67 Shelby cars only. A point of interest: The Goodyear "large letter" E70/15 Speedway 350 tires were used on the first 7% - 9% of the '67 Shelby vehicle production. The remaining '67 Shelby vehicle production used the "small letter" E70/15 Goodyear Speedway 350 tire.
The "large letter" version returned in "68.
SKU 451276L
Construction: Tubeless 4 Ply Nylon
Load Capacity: 1400@32psi
Overall Diameter: 26.73"
Tread Width: 6.63"