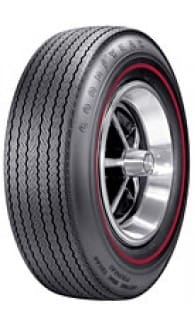 Click To Enlarge
Goodyear Polyglas! Simply the pinnacle of hustle muscle rubber on the road. Detroit wrapped its arms around this one, with good reason. The polyester body plies wrapped with two circumferential belts of fiberglass controlled all the vigor your right foot and nerves could stand. The vaunted Goodyear polyglas stood the test, and still does! Smoke 'em if ya got 'em!
SKU 492024L
Construction: Tubeless 2 Ply Polyester/2 Ply Fiberglass
Load Capacity: 1500lb@32psi
Overall Diameter: 27.09"
Tread Width: 6.34"